THE NEXT STAGE OF THE JOURNEY
Following the move of the Rev Tom Benson to a new parish, we are starting on the process of seeking a new incumbent.
We thank Tom for the huge amount he has done over the last 8½ years. We shall greatly miss his ministry among us, but we wish him and Maryanne well for their new future.

The life of the church now continues – the ever exciting journey of following the Lord's leading.
Tom's last Sunday morning service at St Luke's was on June 6th, and concluded with worship in the open-air, including a presentation on behalf of Buckfastleigh Town Council. Photos below.
New activites planned
As we listen to the needs of the local community particularly as lockdowns ease, we are looking to establish a monthly Grief Group for those living with grief, however long ago.
Our monthly Sunday Supper gathering aimed at those exploring faith particularly within the themes of environmental and feminist spiritualities will be starting again over the summer on Sunday evenings.
We are actively engaged in becoming an eco-church and will be working with the local community on Craftivism projects, supporting the wildlife work at Holy Trinity and working on environmental projects with the local schools and children's groups.
Other latest news
We are now back to running services in church each Sunday at 11.00am. (Please note the change of time from 10.45am).

Other resources for prayer and worship from the Church of England website can be found ♦here♦ and from the Diocese of Exeter ♦here♦
Support and care for our community and for those in our parishes continues to be a priority, both for those who are church members and for those who aren't. So do get in touch with requests for prayer, or for practical or pastoral support, via the details on the Contact page.
The FOODBANK is now returning to operating mainly on Fridays (10am to 3pm) – please come to the hall door at the rear of the church – although out-of-hours help will continue as needed. We are providing food etc. to a greatly increased number of people. For further details for the Foodbank click ♦here♦
We need your support – the present situation is putting a strain on many people, and we as a church are glad to offer help.
But it is also putting a strain on our resources, and we would welcome any support you can give – click ♦here♦ for how to give to St Luke's online.
Funerals – the number of mourners is currently limited by social distancing, but funeral services are still being held, including in St Luke's.
Contact Rev Laura McAdam on 07341258852 for support and help in your time of loss, or phone the church line on 01364 643120.
Buckfastleigh Helpline number – 01364 255819
Problems with the church roof and with Holy Trinity Church
Unfortunately we are experiencing problems with our church roof being prone to leaks.
These have been evident for many years but are now getting worse.
A small committee was set up to examine the cause of the problem and to consider possible future action. The committee undertook initial engineering study work, which indicated the current roof technical design is unsuitable, requiring complete renewal of the roof covering to a new specification.  
Committing to this would require a major financial investment but we are actively considering how best to proceed, and have recently set up a building committee to work on this.  The next stage is that our architect, Julie Boultby, of APSE Architects, will be meeting the PCC on June 29th to talk about a public consultation on the future of the building.
Further details will be released as they become clear. In the meantime we have completed some necessary work on the roof panels.

In addition in late 2019 it was found that the top of the walls of the ruin of Holy Trinity Church are unstable.
Until repair work can be done, signs have been erected to stop people entering the main part of the ruin, though the tower is safe and so the bells can continue to be rung.
Wildlife haven at Holy Trinity Church
For information about work in Holy Trinty churchyard to make part of it more eco-friendly, see the panel at the foot of  the History page
THE DUKE OF EDINBURGH
It was with great sadness that we heard the news about the death of the Duke of Edinburgh. In our service in church on Sunday April 11th we gave thanks for his life and his huge contribution to our nation, and we prayed for Her Majesty the Queen and for the Royal Family in their loss.
Photo courtesy of Press Association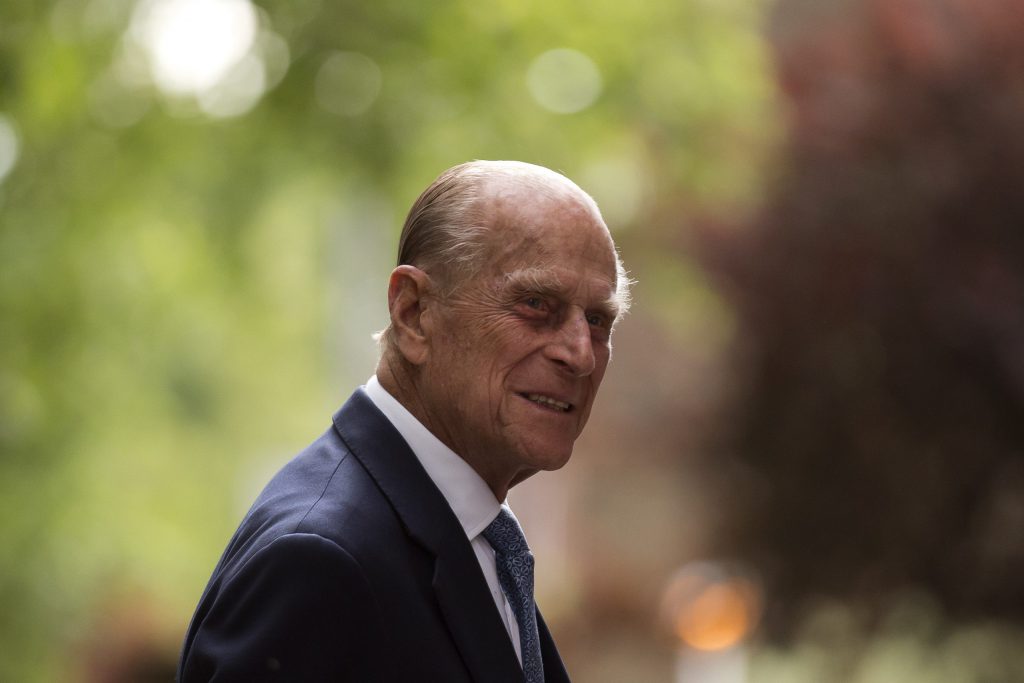 Richard Lester, who has helped us as an organist at St Luke's Church,  has recorded a CD of French popular organ music entitled French Bonbons.
All proceeds from this CD will go to St Luke's Church as it hosts the vitally important Buckfastleigh Food Bank.
The CD will be released by the international recording company, Nimbus Records, and will be available globally.
It can also be purchased on Amazon, Apple, and many other websites from November 1st at a retail price of £12.75.
Copies can also be purchased at St Luke's Church at a bargain price of £10.